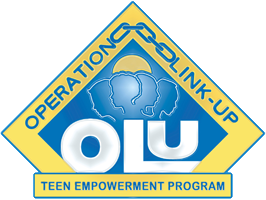 Apply For OLU Programs



Operation Link-Up is an after-school mentoring program that youth between the ages of twelve and eighteen may join. The membership process in OLU takes about three weeks. First, the application must be completed, a parental meeting must be completed and then a two-week orientation must be completed by the teen.
Operation Link-Up requires that youth commit to the after-school programs for one year. If you are a teen or if you have a teen that you would like to involve in OLU please complete the preliminary application below:
Click Here For The Admission Application
Please note that the staff of OLU will contact you within the next five days regarding your application. Thanks very much.