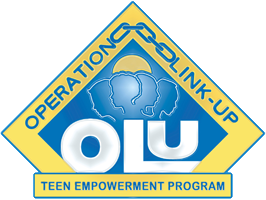 About OLU



Since 1996 Operation Link-Up Teen Mentoring Ministries has been a positive connection for teens. Operation Link-Up was founded by Pastor Titus Lee. His passion to empower teens inspired him to establish this organization as a non-threatening safe-haven for teens from various cultures and backgrounds. Since it's inception hundreds of teens have been impacted through its innovative after-school programs. Through these programs teens are taught how to maximize their God-given potential. Operation Link-Up also serves as a standard of spiritual and moral excellence among teens on the southwest side of Chicago.
Operation Link-Up targets teens between the ages of twelve and eighteen years old. Through the programs and initiatives of Operation Link-Up, many at risk and delinquent youth are rehabilitated after they have committed crimes. These youth are challenged to take responsibility for their actions by being made accountable to adult mentors. The programs of Operation Link-Up build strong character in youth, equips them with marketable tools for success and teaches them how to be positive shareholders in their in their community.
Operation Link-Up is a division of Voice of Triumph Ministries, Inc. therefore it is a tax-exempt organization. Through many private and public partnerships, Operation Link-Up has been able to make a difference in the lives of teens for many years.
Operation Link-Up:

Builds character in teens.
Empowers teens to excel.
Develops talents and abilities in teens.
Inspires teens to positivity.
Motivates teens to reach goals.